Daniel J. Drabinski '99 Pays It Forward with Legacy Gift of Life Insurance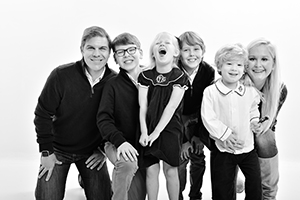 During my first couple of years of high school I spent much of my free time running a landscaping business that generated money to invest in baseball cards, coins, and comics that were then rolled into stocks. My grades suffered slightly, but I pulled my academics together by my junior and senior years—and Babson took a chance on me. And then another one.
Although I hadn't initially been accepted into the Honors Finance program, I was invited to join the group on its annual trip to Wall Street. That visit completely changed the course of my professional life, providing guidance for my career trajectory. Upon our return, I immediately began applying to internship programs in finance and landed a role on the bond desk of Bear Stearns.
It wasn't all business. I immersed myself in campus life by playing varsity tennis and was also a four-year rugby starter. I joined Tau Kappa Epsilon and worked hard to improve Greek life at Babson. And I earned some extra cash at the Babson Free Press.
All the while, people like my professor and mentor, Stephen Spinelli, were challenging me to stress-test every business assumption and look at the big picture—also teaching me to think about scalability and how to increase valuation. I honed these skills while running an estate-planning team within MassMutual and brought these lessons with me as I transitioned into venture capital and private equity, largely setting the stage for how I think about entrepreneurship.
Am I grateful? So much so that I'm proud to pay it forward by carving off a portion of my legacy for future Babson-educated leaders who are using the very business skills that laid the foundation for my career. With the Babson-bestowed tools of approaching business in terms of maximizing long-term efficiencies and the power of leverage, my wife Elizabeth and I are happy to give the gift of a whole life insurance policy. Babson took a risk on me; my gift will provide insurance against future risk while at the same time guaranteeing a minimum five times return on our investment.
In a perfect world, this will be the initial phase of a more significant gift. I wanted to set the wheels in motion before life gets away from us. Whether or not any of my own four children are accepted and choose to attend Babson, I would like the Drabinski family to have some form of representation at the College.
© Pentera, Inc. Planned giving content. All rights reserved.
Disclaimer