Bob Moore's Estate-Plan Gift Will Support Student Scholarships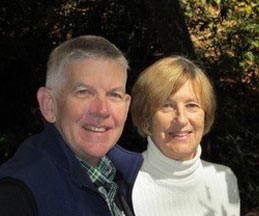 Bob Moore, '74, MBA'75, came into Babson wanting to prove himself. "As a young person, I was an average student. But Babson and Paul Staake took a chance on me, and I'll be forever thoughtful for that," Moore said. During his time at Babson, he took classes that challenged him and became a student representative to the Board of Trustees.
"I am very grateful to Babson for inspiring me to be a great student and for providing me with an incentive to study and do well," Moore said.
After graduating, Moore went on to have a robust and successful career. He is a published author of numerous articles in the health care industry and trade journals and was the vice president of sales & marketing for the Myers Group, a nationally recognized health care survey research firm. He also co-founded an out-patient ambulatory surgery center (ASC) management company, was a co-founder and president of Gates, Moore & Company, and was a founding board member of the Georgia Society of Ambulatory Surgery Centers, to name a few of his many achievements. Moore also attained the rank of Captain in the Infantry and Military Intelligence Branches of the United States Army and is a proud recipient of a Silver Star and Purple Heart medal.
Throughout his career, Moore has maintained his connection to Babson. He helped develop alumni chapter and club activities when he lived in Atlanta. Now that he lives in Richmond, Virginia, Moore is excited to meet alumni in the area to help grow a chapter there.
Babson signifies a lot to Moore, and he has decided to give back to the College. He has included Babson in his estate plan. "Babson was a very fulfilling experience for me, and I am certain that I am making a very sound investment by including Babson in my estate plan. I hope that others will do the same.
"Someday when I pass away, the money will be used for student scholarships. I feel that I am leaving a lasting legacy," Moore said. Through planned giving, Moore is providing future students with the opportunity to access an exceptional Babson education, creating a legacy, and having a lasting impact on students' lives.
To his fellow alumni, Moore says, "I would encourage alumni to give to Babson creatively like this. It's very fulfilling and reinforces my Babson experiences. I know I'm making a good investment for the College."
© Pentera, Inc. Planned giving content. All rights reserved.
Disclaimer